The Ultimate Performance Enhancing Multivitamin Supplement
ANAVITE is far beyond a normal multivitamin. It's really 3 supplements in 1. An athlete's multivitamin/mineral formula with optimal doses of Beta-Alanine and Carnipure™ (L-Carnitine L-Tartrate) for vastly promoting increased endurance and nitric oxide levels while reducing recovery time, thus optimally supporting aerobic and anaerobic athletic performance.* Fully loaded with highly bioavailable vitamin cofactors such as methylcobalamin and powerful minerals such as methylselenocysteine you can expect that ANAVITE will exceed your expectations in a high potency multivitamin & mineral formulation.* To raise the bar even further, Gaspari researchers included 2 FULL GRAMS of the powerful recovery aide Carnipure™ (L-Carnitine L-Tartrate) which has also been surmised to support increased vasodilation, nitric oxide levels, and increases androgen receptor density.* Lastly, while other companies under dose Beta-Alanine, ANAVITE includes over a FULL 3 GRAM daily dose of this powerful amino acid to encourage increased anaerobic and aerobic performance.* This means you can train harder longer!*
What Does it do for you:
Support Increased Androgen Receptor Content in Muscle*
Optimize Post Exercise Muscle Recovery*
Support Vasodilation and Nitric Oxide Availability*
Promote Aerobic and Anaerobic Sports Performance*
Contains High Potency Multivitamin & Mineral Formula*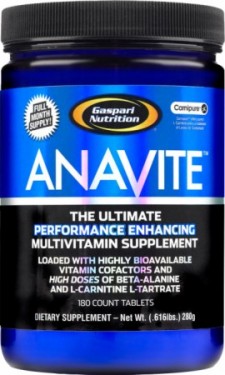 Serving Size3Tablets
Servings Per Container10
Amount Per Serving
% Daily Value
Vitamin A (Alpha & Beta Carotene)
5000IU
100%
Vitamin C (As Ascorbate)
250mg
417%
Vitamin D3 (As Cholecalciferol)
250IU
63%
Vitamin E (As D-Alpha Tocopherol)
30IU
100%
Vitamin K2 (As Menatrenone)
80ug
100%
Vitamin B1 (As Thiamine Mononitrate)
15mg
1,000%
Vitamin B2 (As Riboflavin)
20mg
1,176%
Niacin (As Niacinamide & Inositol Hexanicotinate)
50mg
250%
Vitamin B6 (As Pyridoxine HCL)
30mg
1,500%
Folic Acid
200ug
50%
Vitamin B12 (As Methylcobalamin)
250ug
4,167%
Biotin
300ug
100%
Pantothenic Acid (As D-Ca Pantothenate)
50mg
500%
Calcium (As Calcium Phosphate)
40mg
4%
Phosphorus (As Calcium Phosphate)
105mg
10%
Iodine (As Kelp)
75ug
50%
Magnesium (As Magnesium Chelate)
100mg
25%
Zinc (As Zinc Chelate)
15mg
100%
Selenium (As L-Se-Methylselenocysteine)
35ug
50%
Copper (As Copper Chelate)
1mg
50%
Manganese (As Manganese Chelate)
1mg
50%
Chromium (As Chromium Polynicotinate)
25ug
21%
Molybdenum (As Molybdenum Chelate)
4ug
5%
Potassium (As Potassium Chloride)
50mg
1%
ANAVITE Athletic Drive Matrix
Carnipure™ (L-Carnitine L-Tartrate)
1,000mg
**
Beta-Alanine
1,600mg
**
Boron
25mcg
**
* Percent Daily Values are based on a 2,000 calorie diet
** Daily Value (DV) not established
Other Ingredients:
Microcrystalline Cellulose, Stearic Acid, Croscarmellose Sodium, Magnesium Stearate, Silicon Dioxide, FD&C Red No. 40, FD&C Yellow No. 6, FD&C Yellow No. 10, And Titanium Dioxide.
Allergen Warning: Contains Fish.